Perfect Binding Tester BIND CONTROL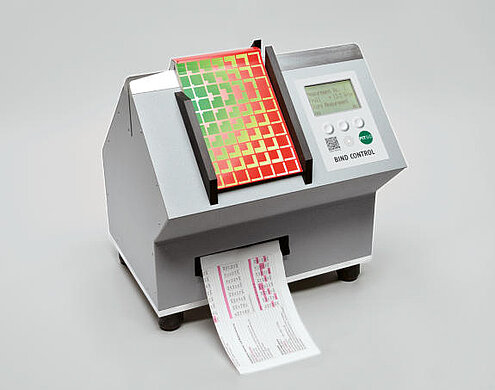 The Perfect Binding Tester BIND CONTROL is intended to measure and quantifiably evaluate the sheet pull-out strength of book blocks. It is the first device that measures a trimmed book block of a uniform width.
The BIND CONTROL makes it possible to evaluate the performance of perfect binding machines and assesses the binding stability as a parameter of the book block quality. In the results, the measured traction force per centimeter is indicated on the display as well as different calculated statistical analyses and quality ratings.
Exporting of the measurement and analysis data to a PC is easily done and clearly recommended. This allows the possibility of monitoring the reached pull values within a quality management system. Any flaws in the system can be tracked and preventive actions can be carried out to ensure the high quality of the end products.