Register Measuring Head RMK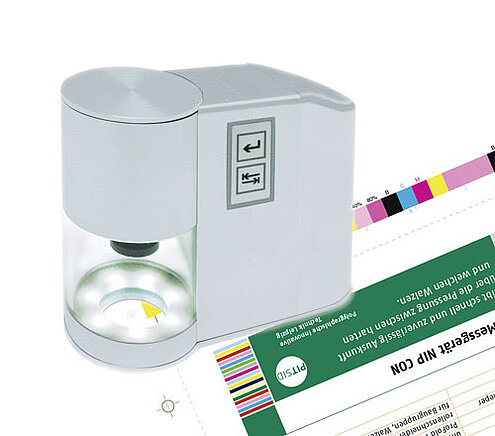 The Register Measuring Process makes it possible to carry out highly precise measurements in sheet-fed offset presses with practically invisible coded micro-marks either inline or offline. The measurement marks can even be placed inside narrow print control bars.
The integrated measuring mark encoding allows, for example, for the allocation of the printing units, the measuring position on the sheet as well as the recognition of the front and back side of the sheet.
For an external offline measurement, the separate Register Measuring Head RMK is available. It is characterised by a large field of view, a large measuring range and is activated simply by lifting it up. The measurement occurs automatically after positioning the measuring head on a measuring mark and its completion is signalled optically and/or acoustically.
The camera system of the measuring head can even be used as a video magnifier for controlling the print quality.
A product video is in progress.